Guestbook
Clarissa B
"Week-end incantevole" Sn stata in questo B&B cn un amica e devo dire ke Silvana , credo sia la proprietaria è stata molto gentile e disponibile. Siamo stati molto bene. La camera era una standard un po piccola, ma accogliente e ben tenuta. Il posto è centralissimo Proprio in piazza tasso. è possibile arrivare al porto a piedi cosi come a marina grande e marina piccola.anke la colazione ke ci è stata servita in camera è stata soddisfacente. Pulizia: ottima...e poi la governante è dolcissima.week-end da rifare ma nn nel.mese di febbraio. Per ragazzi nel periodo invernale a sorrento nn c é divertimento. Ha soggiornato in Febbraio 2015
— il 01/mar/2015
Sharon
"Silvana the owner offers an amazing personalised service that is second to none. We loved the email contact prior to our trip. We loved all the useful tips which helped to make this such a productive trip. We loved the central location overlooking the square. The Excelsior room was superb, especially the views."
—

da Buckhurst Hill, Essex (GB)

, il 20/feb/2015
Katherine
"As a first time traveller to Italy I was looking for a location closer to the train station. Piazza Tasso's location is very ideal. Silvana went above and beyond to help my daughter and I with our questions about tours, transportation, restaurants, etc. Breakfast is your request and served directly to your room. Overall Piazza Tasso B&B is a great choice!"
—

da APO (UM)

, il 27/gen/2015
Shane S
"Very friendly and the location is awesome!" Our stay was excellent! The service was great! Very friendly and the location is awesome! We could see the main square from our room window and there happened to be a concert in the square our last night and we opened our window and watched it. (It was a magical experience) They bring breakfast in the morning which was great too. I would recommend anyone to stay here
—

da Orem, Utah

, il 11/gen/2015
NadiaC C
"Felt like a part of the family!" Amazing family owned B & B! My husband and I stayed for 2 nights in May and loved our time in Sorrento. Sorry for the late review!! For starter, it's in a great location. We were able to walk from the station with our luggage very easily. We arrived on a hot day and unfortunately the train to Sorrento was probably the worst one we were on in all of Italy. It was an older train, full of people and very hot!! But don't worry, it'll be worth it once you get there! Luckily we were greeted by an amazing mobile Granita stand outside of the train station and enjoyed 2 of the best lemon granita's we had throughout our entire trip! The hotel was about a 10 min walk away and had great views! Silvana was so lovely throughout our stay there!! She showed us to our beautiful room and we were blown away. We got the excelsior room and it was well worth it! 2 balconies, a round bed, a fruit basket and champagne! Both the room and bathroom were very clean. Breakfast was great, the brioche were the best, brought to us in the morning and we would enjoy it on the balcony with a gorgeous view! Silvana helped us with dinner reservations and a boat ride to Capri!!! Dinner at La Basilica was amazing, the food was great, we enjoyed it outside and met Antonio! He sang us lovely Italian songs with his guitar and even got my husband to play a little too! He is a musician as well and they really hit it off! It was a very romantic night and was very easy to walk around and get back to the hotel easily. The boat ride to Capri was gorgeous, highly recommend it!! We had decided to go to Pompeii before heading to Sicily, we had already checked out and didn't want to lug our stuff around. Silvana was awesome and so gracious to let us leave our luggage while enjoying the day our Pompeii. We went back, found our things safe and sound and left for Naples to catch our overnight ferry to Sicily! We loved our time in Sorrento and wished we could have stayed longer!!
—

da Whitby, Canada

, il 11/gen/2015
Lascia un Messaggio
Offerte Speciali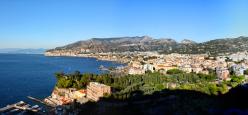 Offerte Non Rimborsabi...
Offerte Non Rimborsabili   Sconti fino al 15%   Prenotando direttamente dal nostro sito web !     Tariffa non rimborsabile   (l'off...
Dettagli »
Eventi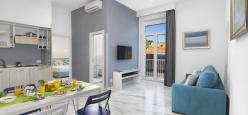 I nostri appartamenti ...
Piazza Tasso B&B Relais mette a disposizione dei propri ospiti i suoi nuovi appartamenti  in Piazza Tasso. Gli appartamenti sono di recente r...
Leggi tutto »
Guestbook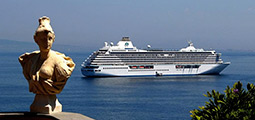 RTP54
Great location. Great host This was a perfect spot to stay in Sorrento. Great jumping off point for Capri, Pompeii, and the Amalfi Coast. Room was...
Leggi Tutto »
Meteo

Warning: Invalid argument supplied for foreach() in /web/htdocs/www.piazzatassosorrento.com/home/application/views/elements/weather/weather.phtml on line 6

Piazza Tasso B&B